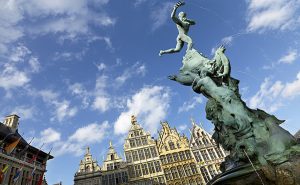 With its Baroque and Gothic architecture, medieval center, and wide selection of brilliant artwork, this city is one of the most entertaining places in the world to tour during the day, and enjoy an excellent beer at night. It is also known as the diamond center of the world.
Perhaps the most fascinating place in the city is the large and bustling Grote Market. Here you will find an eclectic blend of architecture that hails from the Renaissance, Gothic, and 19th century. The centerpiece of the square is the baroque Brabo Fountain that depicts the slaying of a giant by a legendary Roman warrior, from which Antwerp was named.
Other places of interest in the city include the Etnografisch Museum and the Rubenshuis. The Etnografisch Museum contains a variety of artifacts from the history of Belgium as well as some pieces on loan from some of its former colonies including the Democratic Republic of Congo. The Rubenshuis has become one of the city's most popular attractions. This restored former home and studio of Pieter Paul Rubens offers a unique look into the life of one of the world's most renowned artists.
The Grote Market has gourmet restaurants and offers opportunities to sample local delicacies like richly delicious chocolate pralines and oude jenever, which is a type of smooth hard liqueur that is unique to Fthis part of the world. Also scattered around the city are brown cafes (pubs) where visitors can sit and sip mugs of world famous Belgian beer.
Owing to the size of Belgium, it is easy to tour the whole country from Antwerp via train or car. Other interesting places in the country include the unofficial capital of Europe, Brussels, the beautiful medieval town of Brugge and the college town Ghent.
The international airport in Brussels offers flights to cities around the world and can easily be reached from Antwerp by car, train, or bus.