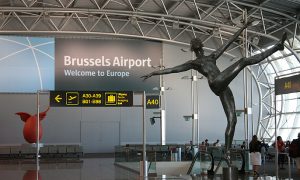 Brussels Airport, situated 13 kilometers northeast of the city is a major European aviation hub, with flights arriving from many international and transatlantic destinations. The airport is brightened up by frequent art exhibitions, and continued expansion will ensure that it continues to serve the increasing numbers of passengers. One terminal deals with all the flights with facilities distributed across two piers.
Bars and restaurants are available throughout city. Bars serve Belgian and international beers, with a wine and tapas bar also available near the boarding gate on Pier A. Further dining options include an Italian trattoria, Seafood Island and nearly 20 other restaurants including Pizza Hut and several fast food outlets.
An ample array of shops including airside duty-free outlets is provided in the terminal. Pier A shops include Bally, a leather goods store; Coronel Tapiocca, a travel accessories shop; bookstores, outlets selling specialty goods from Brussels such as chocolates and gourmet foods. Pier B has an equally extensive array of shops with jewelry, clothing, electronics goods stores and many other outlets are open for shopping. Medical facilities are also present at the airport.
A post office is on hand in the Arrivals hall, from 08:00-19:00 Monday-Friday. Bureau de change offices are located across the terminal, while you'll find ATMs in the arrivals hall and promenade. Travelers can find faxing facilities located around the terminal, and data ports for laptop connection are also available. Fully equipped PCs are an additional option for those requiring computing facilities, while mobile phone rental is provide by Locaphone in the Arrivals hall.
The Skyport Corporate Meeting Centre, situated on the mezzanine level of the fourth floor, provides 10 small meeting rooms and secretarial services. The Airport Forum positioned in the arrivals hall offers telecommunications facilities, as well as secretarial and business services. 3C in the Satellite and the upper floor of the Gallery of Light have PCs ready for use, as does 3C in the arrivals hall.
Toilets accessible to disabled travelers are provided in the airport. There are lifts between floors and wheelchairs are available on request.