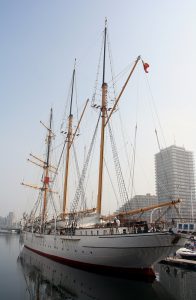 Ostend (or Oostend) is one of Belgium's oldest and most significant ports and it remains a popular city with people traveling there by boat from all over the world. Oostende has a lot to offer its tourists in the way of sandy beaches, casino and many fantastic sights throughout the city. Hoverspeed operates a regular ferry service from Dover to Ostende with their Seacat ferries service.
There is a tourist information center available in the adjacent railway station, as well as currency exchange facilities, a post office, bar, duty free shop and luggage deposit room. Other conveniences include telephones, toilets and a taxi rank located just outside the terminal. The high speed catamarans from Hoverspeed, named the 'Diamant' and the 'Rapide' cross from Oostende to Dover within two hours. There are daily sail from Oostende port providing convenient access to the south of England.
Facilities at the port for the disabled include wheelchair access to all the areas including toilets. Further assistance in boarding may be arranged by contacting the port authorities or ferry company prior to arrival at the port. Oostende is connected to the UK via frequent ferries to the port of Dover, while it is linked to the rest of Europe via fast and efficient bus and train services.
If you are driving from the port, you will find that the port links to the rest of the country via A10-E40 motorway. This will allow you to access the main arteries of Europe, permitting traveling right across the continent.
The railway station next to the cruise and car ferry terminal has a high-speed 'Thalys' rail connecting to Paris, as well as regional links. Ostend airport has doubled its capacity during the last few years, this being for both freight transport as well as the passenger traffic. It is at a 30-minute road journey from the port.
Ferries from the port connect to Dover in the southeast of England, with daily departures making the crossing. Once arrived at the port you will find both short and long-term parking facilities available.